Jean Sturm, our Executive Director, appointed
Chevalier (Knight) de l'Ordre des Arts et des Lettres
Mrs Aurélie Filippetti, Minister of Culture, raised our Executive Director Jean Sturm to the rank of Chevalier de l'Ordre des Arts et des Lettres (Knight of the Order of Arts and Letters).
This national honor, rarely given to an actor of the choral music life, is primarily driven by the Musica project he was the designer and tireless leader for over thirty years, and the award reflects greatly on Musica International and its founding members IFCM and AREFAC.
| | |
| --- | --- |
| | The Ordre des Arts et des Lettres is an Order of France, established by the Minister of Culture. Its purpose is the recognition of significant contributions to the arts, literature, or the propagation of these fields. (Wikipedia) |
The Minister stressed the leading role he played in the use of modern technologies for mass information for the choral musician, and greets his perseverance in his action, constantly adding new innovations. This is a right reward for his integrity and dedication that I stated during the many years I have served on the Board of Directors of Musica.
The former Minister of Culture and Mayor of Strasbourg Catherine Trautmann, decorated Jean Sturm on June 7, 2014, in the presence of numerous personalities from the choral world.

Claude Delley,
President of Musica International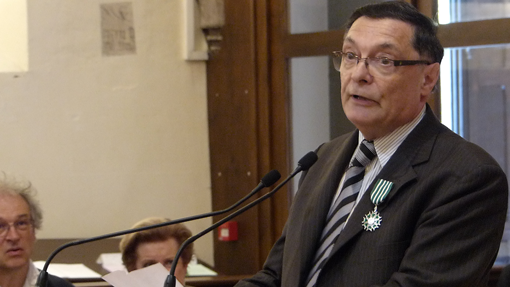 Jean Sturm, after his decoration, during his final speech
The Decoration Ceremony
From left to right: Bernard Lallement ( CFA ), Jean-George Mandon ( FEFA ), Erwin List, Jean-Claude Wilkens ( ECA-EC ), Jacques Barbier ( ACJ ), Catherine Trautmann, Jean Sturm, Jeannine Sturm, Jutta Tagger ( IFCM ), Claude Delley ( MI )
Speech of Jacques Barbier ( Watch the complete speech ):
"Nous le savons tous ici, si Jean STURM n'existait pas, il faudrait l'inventer…

Et son drame consiste en ce qu'un autre Jean Sturm ait existé avant lui, il y a même une rue pas loin d'ici, ailleurs des établissements scolaires qui portent le nom de son homonyme, un humaniste strasbourgeois du XVIème siècle.
Cet érudit et pédagogue a été considéré comme le fondateur de ce qui deviendra plus tard l'université de Strasbourg. Il fallait donc que notre Jean s'y distingue : il fera mieux encore !

C'est un peu par ce biais de l'histoire que je tente de comprendre la personnalité kaléidoscopique de notre nouveau chevalier des Arts et des Lettres – et il fallait bien le pluriel de la distinction – dont chacun connaît quelques unes seulement de ses très nombreuses facettes.

Le fait d'être un des « heureux élus » à discourir s'explique en fait par un regroupement de casquettes au titre :
- d'À Cœur Joie France : j'y associe donc Jean-Claude Wilkens, son directeur ici présent,
- d'À Cœur Joie International : me faisant le porte-parole de son président Thierry Thiébaut, encadrant actuellement un stage de chefs de chœur en Côte d'Ivoire,
les personnes citées ayant aussi de nombreuses années de collaboration avec Jean que ce soit au sein de Musica International ou d'Europa Cantat et davantage que moi une plus longue complicité amicale.
Quelques fragments donc de ce si riche parcours choral dont les fils de cette trame s'entrecroisent constamment au profit de la vie musicale de tous.

1) Ce n'est pas à moi d'évoquer l'histoire de Musica International, Claude Delley s'en chargera, sinon pour rappeler cette volonté commune de structures comme l'IFCM, l'AREFAC et la volonté d'Erwin List ou de Claude Tagger de mettre en route un tel outil dont À Cœur Joie n'a cessé d'aider à sa diffusion, à son développement et j'espère que cette entraide, cette collaboration dureront encore longtemps.

2) Au sein d'À Cœur Joie France, tu as été Président et délégué musical régional Alsace de 1977 À 1986. Pendant ce mandat, tu as demandé, puis obtenu et enfin réalisé la tenue d'Europa Cantat – 9ème du nom – à Strasbourg en 1985, l'année européenne de la Musique. Quel succès et quel feu d'artifice musical avec ton ensemble « Allegro » renforcé pour l'occasion. Un magnifique Te Deum pour les deux chefs d'état présents au concert inaugural : Helmut Kohl et François Mitterrand. Pour plus d'information, se reporter à la lettre éloquente de Sonia Greiner et Gabor Moczar évoquant ton action, voire ton activisme sur la scène internationale.

3) En présence des « patrons » de l'Institut de Phonétique de l'Université de Strasbourg (Rudolph Stock, Béatrice Vaxelaire et Péla Simon), et comme universitaire d'une musicologie appliquée, celle au service des musiciens afin de les mieux aider à réaliser un répertoire, une passion, je tiens à signaler ton activité encore une fois internationale au sein de ce laboratoire du CNRS ou dans divers colloques, mettant ton inusable persuasion à la réalisation d'outils numériques de synthèse vocale, de façon à aider les choristes à chanter dans les différentes langues nationales ou régionales, actuelles ou du passé.

4) Mais au delà de ses quelques facettes d'informaticien, de concepteur de ressources documentaires, de cadre de structures musicales à peine esquissés ici, je voudrai attirer votre attention sur deux points particuliers parce qu'ils sont les moteurs d'une activité dont nous pouvons tirer leçon :

a) Jean, avant tout un musicien, [et Madame Trautman alors maire de cette ville se rappelle peut-être le concert d'ouverture du Conseil de l'Europe donné en 1989 à la cathédrale de Strasbourg dirigeant son ensemble « Allegro », celui qui toujours ici en Alsace, reste un fleuron de la vie chorale et un symbole du rayonnement d'ACJ], Jean Sturm donc, a été outre un chef de chœur, un formateur de la première heure tant au sein d'ACJ Alsace que dans le cadre des actions d'ACJ International en Afrique.

b) Dans son activité scientifique comme en musique, il suffit de faire la moyenne d'âge de son staff, Jean a su s'entourer de jeunes, les dynamisant, les poussant à se réaliser. C'est ce message que beaucoup retiendront de ces activités protéiformes : la confiance dans l'autre, l'assurance d'un avenir fructueux avec de plus jeunes.

Commencé sous le signe de la Renaissance, je terminerai également ce petit mot en faisant allusion à l'une de ses chansons (et que Clément Marot m'excuse de l'artifice) car aujourd'hui :

Vous perdrez temps de me dire mal d'untel
Gens qui voulez divertir mon entente
Plus louez Jean et plus le trouve tel…
S'ébahit-on si tant je m'en contente !

C'est pourquoi, avec tous les amis absents ou présents dans cette salle, heureux de ta nomination, nous te félicitons, très chaleureusement, très amicalement à l'occasion de cette remise de décoration, Monsieur le Chevalier des Arts et des Lettres…"

Jacques Barbier, Président d'À Cœur Joie France

Eulogy of Jean Sturm by Mme la Ministre Catherine Trautmann :



Watch the complete speech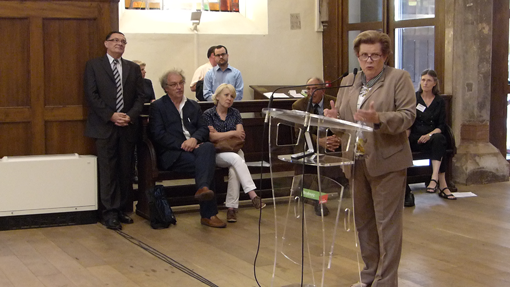 Written Testimonies
by Royce Saltzman (former President of IFCM) :
Jean,
I read about the honor you are receiving for your work with MUSICA. Congratulations.
You have devoted your life to a project that has changed the choral art globally.
Thank you.
May your future continue to be brigh and fulfilling.
by the European Choral Association - Europa Cantat (ECA-EC) :
Jean Sturm and Europa Cantat

Dear Jean, dear friends,

On behalf of the European Choral Association – Europa Cantat we would like to congratulate Jean for having been awarded "Chevallier de l'Ordre des Arts et des Lettres" (Knight of the Order of Arts and Letters). This is certainly a great honour for Jean and also a recognition for his work in the choral field, mostly but not only concerning the Musica database.

For the European Choral Association – Europa Cantat Jean Sturm represents one of the key figures of the EUROPA CANTAT Festival in Strasbourg in 1985. He launched the idea at a reception in Strasbourg in 1979, when his choir Ensemble Vocal Allegro was hosting the Israel Kibbutz Choir, conducted by Avner Itai. Since the city representatives seemed to like the idea, he launched a committee for the preparation of an official candidature to host the EUROPA CANTAT Festival. Since 1985 was named "European Year of Music" they chose this year for their candidature. Once the candidature had been accepted, an association "Europa Cantat – Strasbourg" was created, with Marcel Corneloup (at the time President of Europa Cantat) as President, and with Jean Sturm as Vice-President and General Delegate.

Jean, the linchpin of this association, was at the time President of A Coeur Joie Alsace and managed to recruit 200 local volunteers for the festival, c ooperating with Claude Tagger for the international festivalteam. He also managed to recruit important people for a patronage committee, including Geneviève Honegger, the wife of Marc Honegger who became the musical head of the organisation. During the 9 months before and during the festival Jean became a full-time manager for the festival, freed from his other obligations on request of the Ministry of Culture. A memorable event was the opening concert with the presence of Helmut Kohl and François Mitterand (and the security needed for such visitors) as well as 300 other officials. The festival was one of the biggest in the history of ECA-EC, with 4,300 participants and a concert hall of 6,900 seats which was almost completely full every evening. In the biggest atelier, the Te Deum of Hector Berlioz, the stage held 800 singers and a symphonic orchestra.

We congratulate Jean on the honours received and wish him a successful award ceremony, at which our association will be represented by our Board member Jean-Claude Wilkens

Gábor Móczár, President
Sonja Greiner, Secretary General

by James D. Feiszli (founder of Choralnet) :
I have been privileged to know Jean Sturm since 1991.

He is 1) a genius, and 2) a great human being.
I am so happy that he has been recognized for his dedication and service to the choral art.Jean, thank you for your years of work. Thank you for being a good man.

James D. Feiszli
Directory of Music Activities at South Dakota School of Mines and Technology
by Jutta Tagger :
Mes félicitations les plus sincères pour cette distinction bien méritée.

Musica International est une œuvre unique construite patiemment à travers des décennies, aboutissant à une source presque inépuisable (et toujours croissante) pour la musique chorale dans tous ses aspects.

Sans Jean Sturm elle n'existerait pas, et sans l'aide et le support de ses fidèles collaborateurs et amis elle n'aurait jamais pu prendre cette envergure mondiale. C'est avec grand plaisir que j'assisterai à la cérémonie officielle de la remise de cette médaille.

Jutta Tagger
Ancienne rédactrice en chef de l'ICB, le magazine officiel de la
Fédération Internationale pour la Musique Chorale (FIMC)
by Noël Minet :
Voilà une promotion bien méritée !

Non seulement parce que Jean Sturm a développé le merveilleux outil qu'est Musica, mais aussi parce qu'il y a consacré sa vie.

La Fédération Chorale Wallonie-Bruxelles A Cœur Joie lui adresse ses cordiales félicitations.

Noël MINET
by Leonard Ratzlaff :
Dear Jean,
I just read the announcement from Claude Delley regarding the honour of Chevalier de l'Ordre des Arts et des Lettres that is being bestowed on you by the French government on June 7 in recognition of your vision for and tireless work on behalf of Musica International.
I'd like to offer my congratulations on this richly deserved honour!
We will raise a glass or two to you in Halifax!

Leonard Ratzlaff
Professor of Choral Music
University of Alberta
Edmonton, AB CANADA T6G 2C9

by Paul Carrot :
Cher Jean,
2 réactions à cette nouvelle :

La 1ère est de se réjouir TRES FORT de cette distinction qui couronne tant d'années de labeur et de construction d'une oeuvre d'une qualité exceptionnelle, et tellement originale en ce sens que personne n'avait osé avant toi s'attaquer à une réalisation d'une telle dimension.

La seconde est de constater que les autorités de notre pays ont su remarquer et apprécier ce travail de bénédictin.

Alors un immense bravo pour toi et une immense joie partagée avec toi. + une mention particulière pour Jeannine qui ne peut être oubliée dans cette réalisation.

Très amicalement.
Paul
Messages of Congratulations (sent to awardjean@musicanet.org or written on the Facebook page of Musica International) by (not full list):
- Andre De Quadros (India,...)
- Reijo Kekkonen (Finland)
- Thierry Thiebaut (France)
- Lupwishi Mbuyamba (Mozambique, former President of IFCM)
- Ambroise Kua-Nzambi Toko (RD Congo)
- Frédy Henry (Switzerland)
- Ian Bullen (Canada)
- Alain Lanctôt (Canada, Executive Director of the Alliance des Chorales du Québec)
- Jean-Marc Poulin (President of A Coeur Joie Switzerland)
- Greg Bartholomew (USA)
- Lysiane Alexandre (Belgium)
- Hermann Eckel (Allemagne)
- Thorsten Weber (Austria)
- Andreas Göpfert (Germany)
- Hans-Dieter Reinecke (Germany)
- Ugis Praulins (Latvia)
- Rainer Held (Switzerland)
- Reinhard Stollreiter (Germany)
- Rajko Maksimovic (Serbia)
- Wallace Earl de Pue (USA)
- David Evan Thomas (USA)
- Miguel Angel Santaella (Venezuela)
- Tristan Caliston Ignacio (Philippines)
- Graeme Wilkinson (South Africa)
- Kjetil Aamann (Norway)
- Hélène Guy (France)
- Bernard Kern (Fond'Action Alsace)
- María Elina Mayorga (Argentina)
- Susanna Fan-Ebener (Germany)
- Philippe Bergère (France)
- Francis Haberer (France)
- Jean-Claude Comès (A Coeur Joie Alsace)
- Danielle Knobloch (A Coeur Joie Bas-Rhin)
- Marie-Thérèse et Robert Halter (A Coeur Joie Haut-Rhin)
- Geneviève Honegger (France)
- Raoul Zana (CNRS)
- Jacques Lang (CNRS)
- Gilbert Weill (University of Strasbourg)
- Rudolph Sock (University of Strasbourg)
- Béatrice Vaxelaire (University of Strasbourg)
- Virgile Jarrige (former webmaster of Musica)
- Michèle Obringer (former coordinating secretary of Musica)

Announcements in Newspapers and Magazines :
- DNA (Dernières Nouvelles d'Alsace)
- Webpage of IFCM (http://www.ifcm.net)
- Newsletter of May of the Bundesverreinigung Deutscher Chorverbände (BDC)
- Newsletter of May of A Coeur Joie France (Choralies-Actu)

The ceremony was embellished by musical spots of the Allegro Vocal Ensemble and the Franco-German Choir of Munich
In the evening, concert given by the two present choirs :




Allegro Vocal Ensemble of Strasbourg

Franco-German Choir of Munich