Centre d'Art Polyphonique d'Alsace



CAPA aims to promote choral music. Workshops, masterclasses, concerts, hosting of choirs. Its headquarter, Le Kleebach, in the beautiful valley of Munster, France, is not only an ideal place for these activities, but also an always appreciated stop for choirs travelling through western Europe.
Its choral music library is the home and birthplace of MUSICA International Database.

Cette page est aussi disponible en français

Diese Seite is auch auf Deutsch verfügbar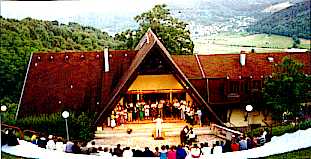 Photo: a concert in the open-air theatre, in the back of our headquarters "Le Kleebach"


The CAPA>
Choral music in Alsace: training workshops and courses
Le Kleebach
Accomodation for up to 70 persons. Conference and rehearsal rooms equipped with pianos, pipe organ, harpsicord, stereo, etc... for seminaries, musical trainings, rehearsals. Ideal stop for choirs travelling through western Europe. Well located for visiting Alsace. (and good food and good wine!)
The Partithèque
A choral music library with 35,000 choral musical scores. Open daily. Possibility of ordering music through "La Partithèque".
Tel: (+33) 3 89.77.43.77 ; Fax : +33 3 89 77 91 84

MUSICA International Database for Choral Music has its home in "La Partithèque". Organisation of Musica Workshops.
Corissimo
A superlative choral music concert series of outstanding invited choirs in Alsace.
Decentralized training courses.
Courses are given in Strasbourg, Colmar and Mulhouse.
Activities 98/99
Calendar of activities of CAPA (workshops, sessions, meetings, masterclasses, concerts)
"La Brève"
Last issue of the bulletin of CAPA (july 98).
---
CAPA - Le Kleebach, 68140 Munster, France
Tél: (+33) 3 89 77 43 77 Fax: (+33) 3 89 77 91 84

e-mail of Le Kleebach : arefac.capa@rmcnet.fr e-mail concerning this server : sturm@ics.u-strasbg.fr
Your access to this site is the
th since February 5, 1997.